Scrolling through Instagram I'm sure most of you have noticed the increase in ink drawings going around that all have #inktober written in their captions. This has been a challenge that's been going around for a few years now.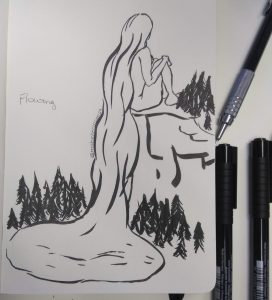 For anyone still scratching their heads at what Inktober is, it's basically a yearly challenge that runs through the art community where artists created an ink drawing each day for the month of October with a different theme. Jake Parker founded the official prompt lists that have been going around since 2016, but before then people just sort of made up the prompts as they went. People still continue to do spin-offs of the challenge each year. Last year I myself followed the witch themed Inktober challenge. And while I hadn't finished out the whole month, it was still a good exercise for me to take part of.
Now you're probably wondering why I bring this up. Besides bring more attention to it (even though it probably doesn't need it), I think it's something more people should participate in. Now for me I naturally fell into because I enjoy illustrating and have entered the work of inks before. But I know it isn't easy for a lot of other people to feel comfortable doing, and that's exactly why I think people should do it. It doesn't have to be Inktober exactly, but doing these kinds of art challenges I think is beneficial to all creatives. Designers included.
Doing these art challenges forces you to flex your creative muscle in a sense. It takes you out of your comfort zone and probably is in a medium that you're not familiar with. Things like Inktober makes you experiment in ways that you never would've thought to do on your own. In that you end up making things that you never thought you could. At the very least it'll help you get the creative juices flowing.
If you want to know more about the Inktober prompts click here.  Now have some fun with your prompts!